It is not getting better for Michel Platini:  FC Platini was defeated 5-0 in finals, intermediate level, by Bayer Neverlosen! Bayer was astonishing during the 2nd half, scoring 5 goals in a couple of minutes!
In the other categories, Framestore wins the Intermediate-recreative. FC EIM is champion in the recreative level.
Congrats teams and best luck next time! Continue Reading »
Everything must GO!
We still have a couple of free spots. Here the available spots:!
– Masculine, Tuesday, Center-North: 1 team
– Recreative, Sunday, Center-North: 1 team, 4 players, 2 females
– Intermediate, Sunday, Center-North : 1 team
– Intermediate-Recreative, Thursday, Center-West : 2 females
FC Refs did it and brings back the Cup at home!
Congrats to the refs team, FC Refs, who wins the 10 years old tournament of the Montreal's Friendly Soccer League! Great victory against Brandies in finals (4-0) Congrats!
There were 12 teams and what a great spirit! Thank you all for this great birthday!
Special thanks to Boutique Passion Soccer which gave free T-shirts for every players, and Soccer5, which gave 2 coupons to play free (one hour) in its soccerplexe!  Continue Reading »
The Montreal Friendly Soccer League has two fields opened for location every Sundays, from 11am to 12:45pm and from 7pm to 10pm.
These 2 locations are great, near metro.
We rent these 2 fields for $50/h. If you rent more, it is possible to get a discount. Continue Reading »
The final tournament of the Montréal's Friendly Soccer League has seen the victory of SAO, winner in the masculine Prestige category this Winter! The team of Tchad defeated 8-1 en final Les Éléphants!
In the coed categories, La Petite Patrouille against FC Laval in the 7vs7 turf. With the 5vs5, FC MHM is the winner!
Find in this post pics and videos of the event!  Continue Reading »
MFSL is 10 years old!!
We organize a special tournament June 11 and 12!
Get every details by clicking on the pic.
Winners of their groups, and sometimes their opponents in finals, qualify for the Champions Trophy, the final tournament of MFSL. Only the winners of  this tournament in their categories get the rewards. Here are the schedules :
Futsal : April 16
Turf 5X5 : April 16
Turf 7X7 : April 30
Read more to get every informations. Continue Reading »
A couple of free spots are still available: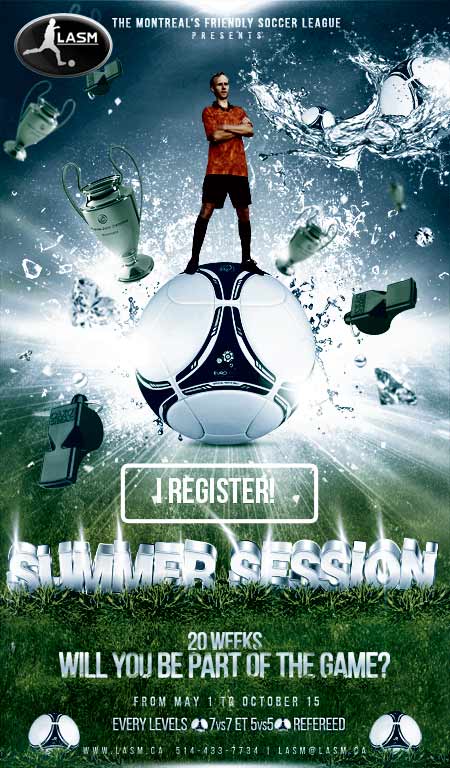 That was a great afternoon, Saturday, January 30: 12 équipes met to win the very famous title : Champion of the Montreal's Friendly Soccer League!
Les Aigles, had won against Atletico Montréal, previous Thursday and were joined by The Skillers (recreative), Troncos (intermediate-recreative) and FC MHM (intermediate). Congratulations! Continue Reading »
With only 11 points got in 10 games, Lokomotiv Bangkok has a fault average of one and wins the Fair-play trophy!
Congrats to the team which get a Cup and $100 discount!
Don't forget MFSL soccer FRIENDY league! We are very glad Lokomotiv Bangkok wins it… for the second time! Continue Reading »