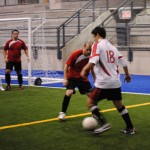 That's it! The registration period for the Fall session is opened!
Benefit of our great fees and our new packages:
Turf 5 vs 5 in our new soccer centres: $790 + tax only!
Prestige Leagues : goals and assists rankings, free jerseys, 1500$ prices for the winners, 20 weeks, etc. only $2490 + tax!
The new season will start October 18! Book your spot soon!